The Best Boots for Men
I can think of plenty of reasons why a man striving to dress better should own a quality set of leather boots. Whether it's their longevity, fit, warmth, or simply their appearance, boots are a staple in the realm of style. From chelseas to moc toes to chukkas, the selection of boots in this day and age is essentially limitless, meaning it's that much easier for you to find the best boots for men!
Though I'm certain you've heard it countless times before, let's get something out of the way first; you get what you pay for, and that goes double for boots. The difference in caliber, durability, and appearance of a well-made, American pair of boots compared to something you find at Target is substantial.
Think of a pair of boots as an investment. From the minute you try them on, they'll conform to your feet, age as you age, walk you through the elements, be there when Stacy from accounting doesn't text back (but whatever – she wasn't that cute anyway), and they will become an extension of your own character.
In short, a set of solid boots will last a long time and if you treat them well, they'll return the favor. When it comes to the best boots for men, a pair that won't fall apart should be the first on your checklist.
---
Before we get into styles and types, let's get some basic terminology out of the way. I've made a quick diagram to do so:
The Anatomy of a Boot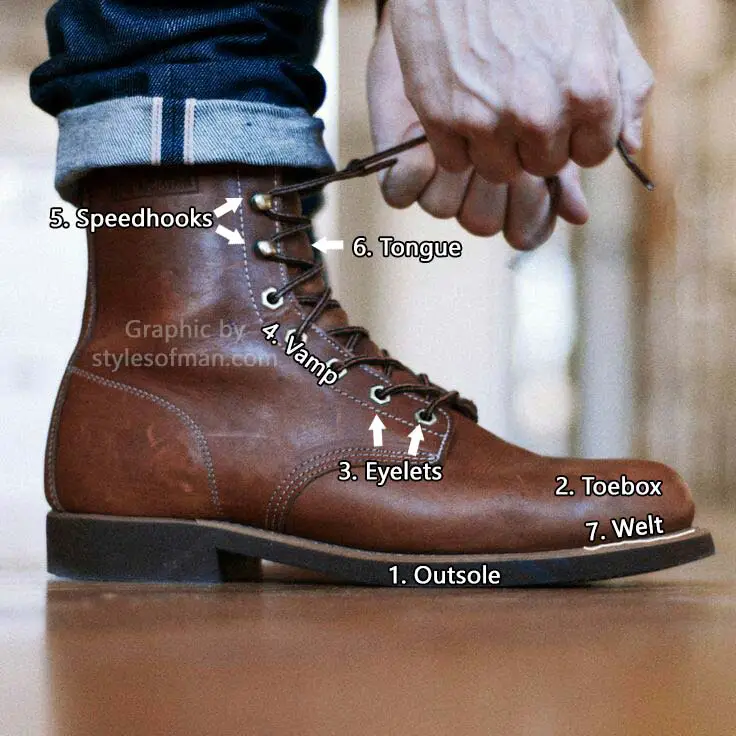 1. The outsole is the bottom part of the boot that directly touches the ground. It's important for this part of your footwear to be sturdy, as it'll be taking the most beating. This part can be made of various materials including leather, crepe, and Vibram, which all have their own separate applications.
2. The toebox provides space and protection for your toes, and is often lined in workboots (hence, steel-toed boots). Your foot's interaction with the toebox is crucial to fit and comfort. This part can come rounded or square, though rounded seems to be much more stylish.
3. The eyelets secure your laces to the boot itself. Pretty self-explanatory part of any footwear.
4. The vamp AKA upper surrounds and protects your foot from the sole upward. This is the part that creates the shape of your boot using a last.
5. For higher-rise boots, speedhooks are often implemented to let you tie/untie your laces quicker. Essentially, it allows one to swiftly insert and remove his foot from the boot.
6. The tongue prevents the laces from rubbing against your ankle.
7. The Goodyear welt runs along the outsole. This part is only found on quality boots as it signifies that the boot-maker used a specific process that's generally believed the be the best way to craft boots. Not all quality boots are Goodyear welted and not all Goodyear welted boots are quality.
Things to Note:
The sole of the boot comes in several different styles which are used for different purposes: flat (similar to photo above), wedge (insulating) , Dainite, lugged (anti-slip).
The toebox, like the sole, also comes in a few different looks: plain, moc-toe, wingtip, and cap-toe. Unlike the sole, the toebox's appearance is generally ornamental; pick one that you like.
You can add water-resistance to your boots by coating them with some mink oil, though it'll usually darken the leather.
Looking into some leather conditioner could also be a good move, as it'll protect and rejuvenate your boots.
---
Types of Best Boots for Men
Work Boots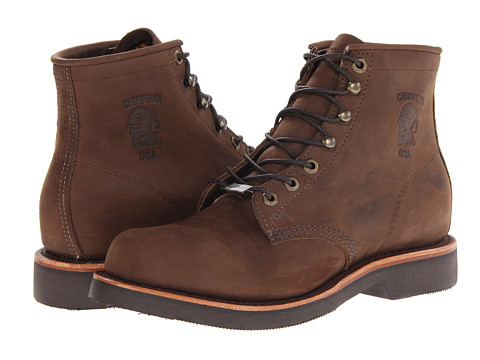 Perhaps the original branch of boots, this category employs a range of footwear ready to take a beating, but that doesn't mean they can't look good while doing it. Work boots are generally made of more rugged leather and often employ Dainite or lugged soles. These are the things your granddad wore. Here are a few brands and models:
Chippewa Apache 6″ Rugged Handcrafted Lace-Up Boot – these were actually my very first pair of boots as well as the purchase that got me interested in men's fashion. They're an excellent pair of boots for the price and the burnished leather is soft and nice. Not to mention, they're handmade in the United States. They're also available in a lugged sole, which offers more grip and traction, but I personally don't like the look of them. Since most boots are designed with the notion that you'll be wearing thick socks, make sure to size down! Chippewa's collection
Thursday Boots Captain – Thursday is a relatively new contender in the boot game, but they're bringing the heat. The Captain is Goodyear-welted, leather lined, and features a cork midsole – all priced for under $200, which is an absolute steal. They're not made in the US, but if you're looking for a good-looking boot on a budget, this is a good bet!
Red Wing Heritage Iron Rangers – The Iron Rangers are near the top of the workboot echelon, and are a cult favorite among boot and denim aficionados alike. The Minnesota-made boots are a staple for the Americana enthusiast. The only problem I see with these is that they might be too nice to use like regular workboots, as I've seen plenty of guys wear 'em casually to the office. They also come in a huge range of different leathers and colors. Red Wing's collection
Alden Indy Boots – (Not to be confused with Aldo) Okay, so I might be a little bit obsessed with these, but can you blame me? First of all, they were made famous by Indiana Jones (hence the Indy). And if you don't think that's awesome, each pair is handmade in Massachusetts – likely by a rugged patriot named John. As with the Allen Edmonds, this is by no means an entry-level pair of boots. Just remember, you don't need to spend an absurd amount of money on boots to look good; there are plenty of budget alternatives available that look just like the expensive boots.
Wolverine 1000 Mile – An excellent contender for an upper mid-tier boot, the 1Ks are another US made boot. The leather is sourced from Horween, a great tannery that actually provides leather for MLB baseball gloves (kind of interesting, right?). I personally have a pair of the Centennial version, which has pebbled leather as opposed to smooth. The boot fits like a glove (heh) and they can fit into a range of outfits, which is why I've included them in my list of best boots for men. I'd recommend a pair of these for sure. They also go on sale a few times a year, so look out for that.