Winter Accessories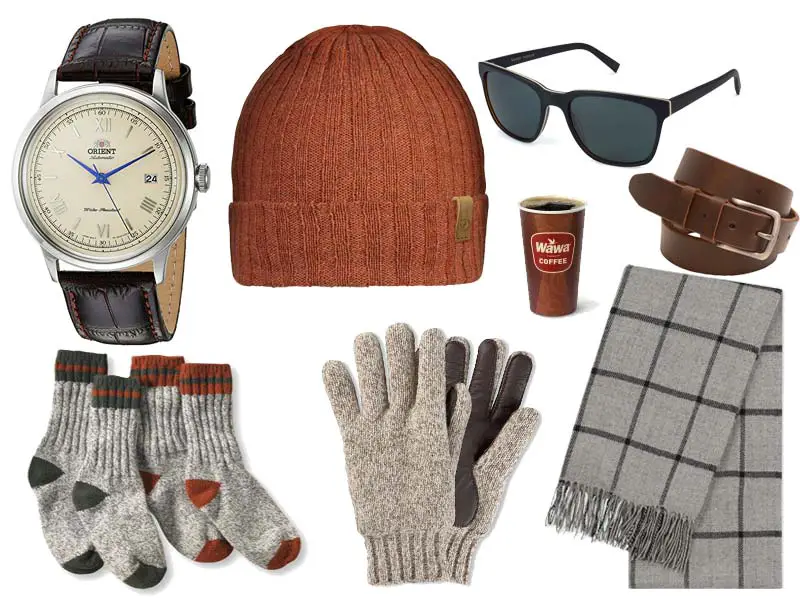 Watch
A watch isn't absolutely crucial, but it can really add noticeable depth to your look, even if it's a cheap Timex. Opt for a simple, white-dialed watch with a brown leather strap. One of the best entry-level watches remains the Timex Weekender, though the ticking is very loud (especially in a quiet room laying in bed waiting for your last Tinder match to message back….sigh). At a slightly higher price point, the Orient Bambino firmly stands its ground as a very solid automatic timepiece.
Wool Socks
A lot of guys wear whatever socks cost the least and come in the largest quantity and while it's understandable, it isn't optimal. Transitioning to wool socks, especially in the colder temperatures, makes a night-and-day difference. Also, if you're prone to sweaty socks and feet, the natural odor and moisture-repelling properties of wool will be a total game changer. Kirkland (Costco) socks are a great bang-for-the-buck as are Uniqlo's wool socks when they have their semi-regular sales.
Sunglasses
Contrary to popular belief and the fact that it depressingly sets early every day, the sun does, in fact, exist throughout winter. Even if it's overcast, the sun's harsh rays can damage your vision. I'm a firm believer in eye protection, so I'd consider a polarized pair of sunglasses a wardrobe essential. More info on sunglasses, facial shape, and the sun's effects on your eyes here.
Scarf
When the windchill has no chill, a thick scarf can be a lifesaver. Aside from being a functional alternative to a freezing neck, scarves add some extra flair or pop of color to any outfit. With a variety of fabrics, textures, colors, and lengths, scarves are a no-brainer for winter. Most are made from cotton or a wool blend, though some pricier scarves blend soft cashmere into the mix.