At its absolute core, men's winter fashion is totally simple: don't freeze to death.
Sure, it's easy enough to burrow inside your oversized parka and waddle around for the rest of the season, but being warm doesn't have to mean sacrificing style. With an emphasis on layering, more pronounced textures, subdued colors, and thicker fabrics, winter fashion for men is far from mundane. Before we sled right into this guide, I'd like to note that everyone's idea of winter weather is different and to keep in mind that climate varies. Yeah, the wind hurts your face and the sun sets at 5PM, but remember that one time we got to sleep in an extra hour for Daylight Savings?
Winter Outfit Fabrics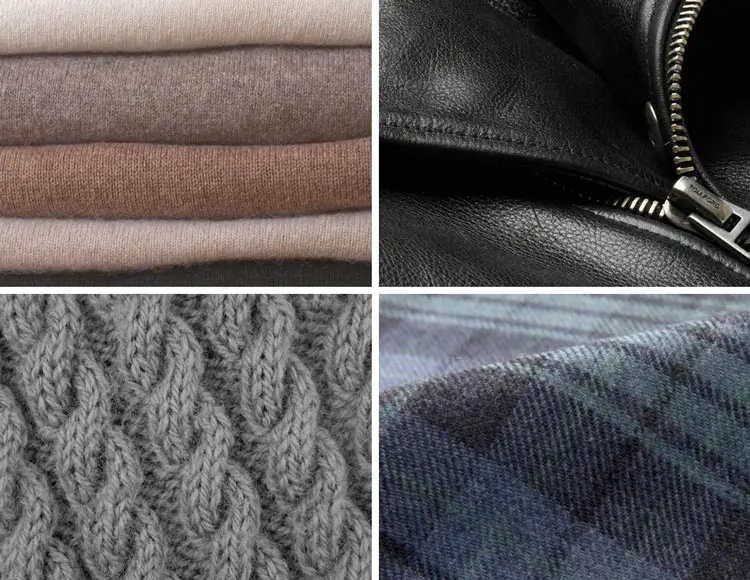 Before we move into apparel categories, let's go into the actual composition of our clothing. The chillier winter weather allows one to layer considerably more than summer or spring. What's the difference between an undershirt made of polyester as opposed to cotton? A leather jacket to a nylon one? To put it simply: plenty. Different textiles have different inherent properties, which means they'll all perform distinctly in varying conditions. A fundamental grasp of materials and their applications can save you from sweating right through a shirt or losing the rest of your toes to frostbite.
Cotton
As the backbone of the clothing industry, cotton makes up the vast majority of all apparel, and for good reason. It's inexpensive, relatively soft, retains color well (depending on dye), durable, and generally easy to clean. The downside to this material is that it wrinkles easily, shrinks/stretches, and is very absorbent, which results in body odor retention and lengthy drying. Cotton garments will likely compose the vast majority of your men's winter wardrobe.
Do note that not all cotton is created equal, and many factors determine the material's softness, color retention, and durability. Pima, for example, is long-staple cotton that's very soft to the touch, and more expensive than traditional cotton.
Flannel
Contrary to popular belief, flannel is actually a type of fabric and not a pattern (e.g plaid). It was originally made of woven wool, but more modern compositions consolidate different fibers like cotton, nylon, and polyester. Flannel is finished with a process called napping, which gives it its iconic "fuzzy" appearance and feel. This process allows flannel to be very warm and soft without being too heavy.
Wool
Chances are, you already own an article of clothing made of wool, but there's quite a bit more than meets the eye with this peculiar fiber. Wool comes from sheep, goats, alpacas, and rabbits, though sheep wool is by far the most common. The type of wool (graphic) varies from the type of sheep it comes from, and the properties of each vary too. Wool is animal-friendly (the sheep is unharmed if properly sheared) and environmentally sustainable. It's very warm, hypoallergenic, odor/stain resistant, and insulates when wet. In fact, wool doesn't feel wet to the touch until it absorbs 60% of its own weight in water. The material's high water and nitrogen content even allow being fire-resistant, which is great if you're someone who catches fire frequently! I can go on and on about why wool is a seriously cool fabric, but just know that it's a great material for sweaters, shirts, and especially socks. If you're prone to sweaty (therefore smelly) feet, wool socks might change your life.
Polyester/Nylon
Both polyester and nylon are synthetic fabrics spun from chemical solutions. Advantages of these fabrics include inexpensive production, moisture-wicking, strong shrink resistance, and stretch. Synthetic fabrics are often shiny or reflective in appearance, which may deter some. Polyester is often used due to its remarkable moisture-wicking properties. Nylon, on the other hand, is more often used with outerwear and "shells" of clothing. For instance, this Alpha Industries bomber has a nylon outer shell, but polyester lining because the nylon is more durable. Something to note is that these materials tend to make that swooshy swoosh noise when rubbed against itself (and yes, that's definitely the technical term).
Leather
To clarify, I'm referring solely of animal leather here, and not the artificial/faux/"vegan" substitute, which has different characteristics altogether. There are tons of different kinds of leathers, each with differing heat insulation, durability, softness, color, etc. Generally speaking, however, leather is strong and has great heat insulation. Leather fibers hold large amounts of water, which allows them to absorb perspiration and later dissipate it. Avoid purchasing cheap leather. Not only will it likely be of inferior quality, but cheaper leather often comes from places where ethical standards for animals are non-existent.
Men's Winter Fashion Jackets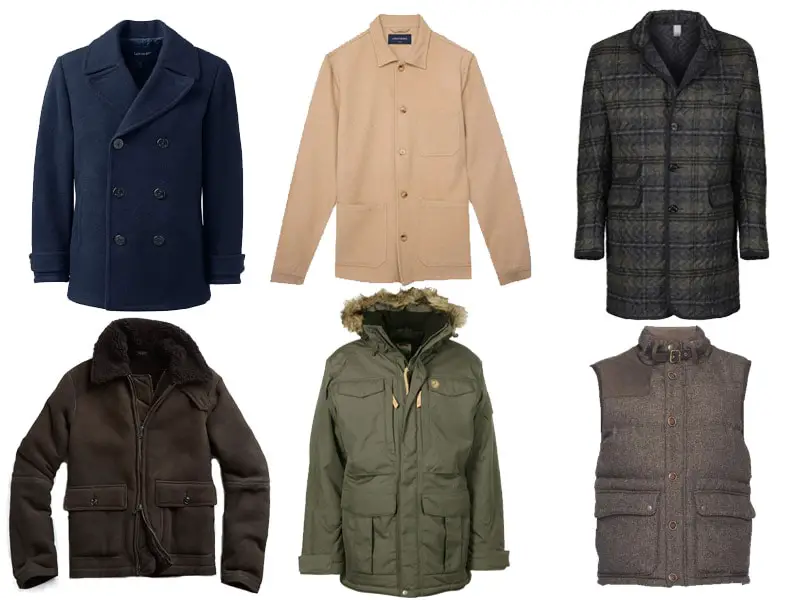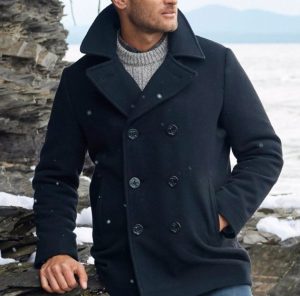 Peacoat
This jacket has its roots tracing back to military use and has also been transformed into a modern fashion staple. The ideal composition of a peacoat is 60-80% wool to ensure warmth without sacrificing the durability that some 100% wool coats do. Peacoats usually have two outer pockets (either slant or horizontal) as well as inner pockets for storing things like wallets, keys, or flasks of liquor – 'cause sometimes you need that extra shot of warmth.
Parka/Anorak
These are hooded coats adapted from traditional Inuit tribe outerwear and can range from light fishtail parkas to heavier fur-lined ones. Parkas are found in nearly all branches of men's winter fashion and are often a staple in streetwear. A heavier, puffier model like the Alpha Industries N-3B is a great bang for the buck for staying warm in the winter months, though they typically run large so be sure to size up.
Technical Jacket
We all need a reliable jacket to combat wind and rain. This category of outerwear is probably the most technologically-advanced, usually boasting a Durable Water Repellant (DWR) coating and wind resistant outer shell. The Patagonia Torrentshell takes at least 30 minutes of consistent rainfall to saturate its fabric. These are great jackets to save for a rainy day (literally), but you may not want to.
Bomber/Flight Jacket
These have come a long way since their introduction. They were first manufactured 100 years ago for pilots in World War I. Planes had open cockpits back then, so flyboys had to endure the elements all while dodging enemy planes and flak alike. Flight jackets combated this problem with thick, sturdy leather and fur lining to keep pilots warm in the skies of no man's land (you can totally tell these sweet facts to the hordes of ladies lining up to ask about your jacket).
War – war never changes, but fortunately, bomber jackets did. Though traditional leather models are available, modern bomber/flight jackets are typically composed of nylon or polyester. I love these jackets because they're so easy to pull off. Whether you choose to layer it over a simple T-shirt or hoodie, the bomber is always a stylish look.
Field/Military Jacket
These military-inspired jackets have a lot of different names and even more kinds of styles and variations. Specifically, the M-65 (stands for M-1965, the year it was first introduced to US troops) is likely the predecessor of most army-type outerwear seen today. They're not typically very warm, so it's definitely a jacket to layer over thicker sweaters and flannels.
Shirts + Sweaters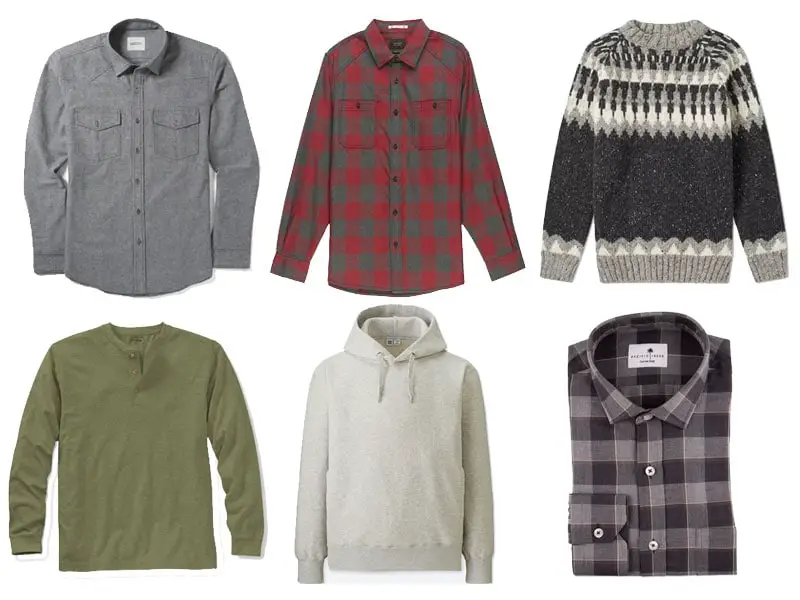 Sweaters
Chances are, sweaters will be a large contributor to your winter looks and there's really nothing wrong with that. They're clean, effortless garments that are warm and cozy – so what's not to love? Cotton, wool (merino or shetland), or cashmere are common sweater materials. Patterns aren't uncommon for sweaters, and fairisle is quite popular during the colder months. Sweaters typically come with either a crewneck, V-neck, quarter zip, turtle/roll neck, or shawl collar.
Button-down Shirt
Button-down shirts are a very large category of shirts, so we won't be diving too deep into them. Though some fits and detailing can vary by manufacturer, the biggest differentiator of button downs is their fabric composition and weight. Hang up your linens and chambrays and replace them with heavier fabrics like oxford or broadcloth. A popular style is to layer a sweater over your OCBD, which can create some interesting color and pattern combinations.
Henley
Henleys alone aren't the most stylish garment, but they make excellent layering pieces for when the temps drop. Typically, henleys are made of cotton, wool, or a mixture of the two. Shoot for more neutral colors like white, gray, tan, or navy.
Flannel
Flannel shirts belong in any man's winter fashion wardrobe. They're effortless to pair with pretty much anything, come in a wide assortment of colors and patterns, and the ladies love 'em (subjective to wearer's attractiveness, income, muscularity, facial hair, car, and volume of Fortnite wins). Uniqlo makes some great flannels and they're often on sale for less than $20 – a great bang for the buck!
Hoodies
'Cause let's be honest: you're not gonna dress up every day. Normally, hoodies would be grouped with outerwear, but the winter season inhibits wearing just a sweatshirt. Sweatshirts are as effortless as they came, but that doesn't mean they can't be stylish. Pair a medium weight hoodie with a jacket or overshirt for an easy layered look.
Pants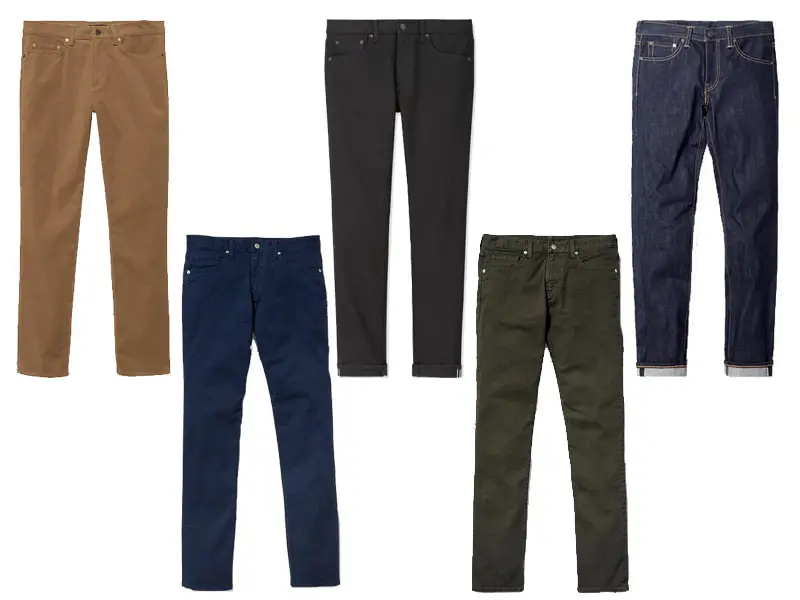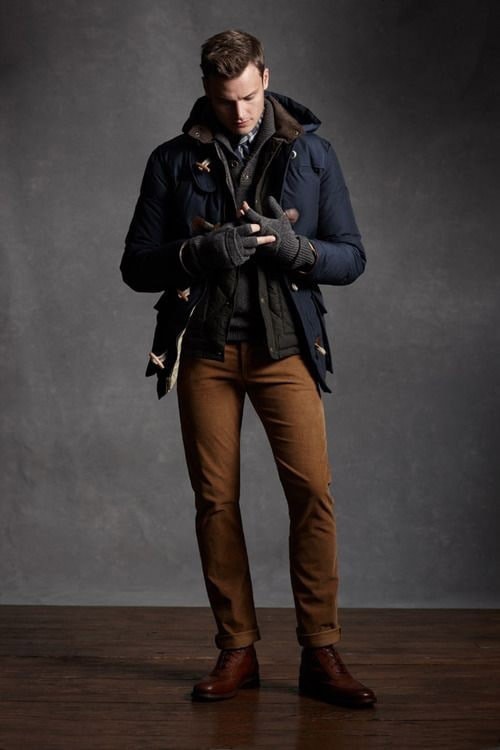 Unfortunately, societal standards require us to wear pants (total BS, we know), but that doesn't mean we should be stuck with sweatpants and bootcut jeans all winter. In fact, the cold season permits the most experimentation with different pant styles and fabrics. Pant fabrics and textures are often underrepresented in men's winter fashion wardrobes.
Denim
As the cornerstone of every man's trouser ensemble, denim hasn't changed much since its inception more than a century ago. Nowadays, jeans have evolved into a myriad of cuts, colors, and fabric composition. Darker washes integrate well with the more subdued color palette that defines men's winter fashion. An all-around great pair of jeans is the slim fit Levi's 511 and they really can't be beaten for the price. Do keep in mind that Levi's has notoriously bad quality control, so it's advisable to pick up a pair in-store to try on. Chances are, they'll price match the less expensive online retailers, too. No need to go overboard with the denim lineup. Two pairs in indigo and black will serve you just fine for this season.
Wool Pants
Wool pants often don't get the credit they deserve. They're incredibly warm and provide some awesome depth to an otherwise flat outfit. Wool pants pair perfectly with your favorite boots, chukkas, dress shoes, or even some sneakers. When a regular pair of chinos simply isn't warm enough, a thick pair of wool pants is sure to do the job. J Crew, Brooks Brothers, and HM are a good place to search for these types of trousers.
Chinos
The sheer versatility of chinos is uncontested. Similarly to jeans, khakis come in varying cuts and styles, so choosing the right pair for you may require some trial-and-error. The vast majority of chinos are composed of medium weight cotton, which may under deliver on colder days. Thicker, warmer fabrics include duck canvas and moleskin. Check out the offerings from Jomers. Personally, I'm partial to J Crew's 484 cut chinos and Banana Republic's Aiden cut.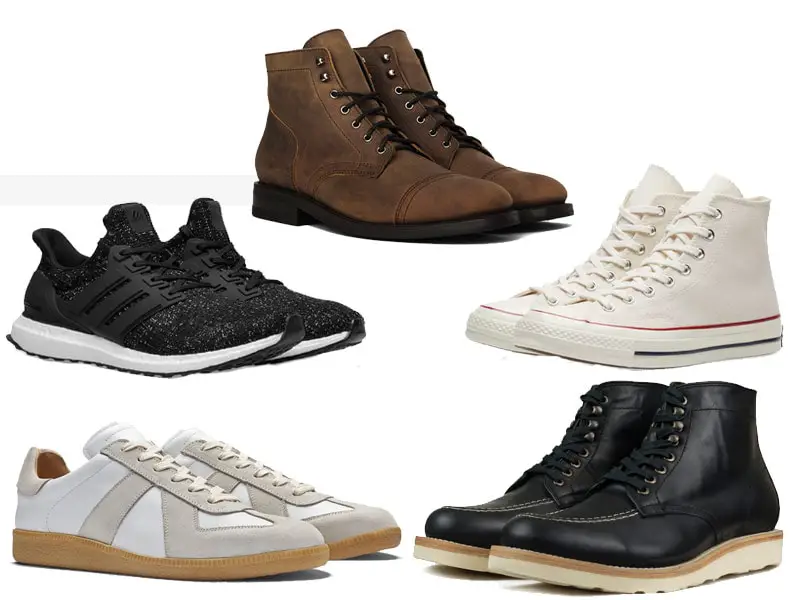 White Sneakers
There are some who believe white shoes should be constrained to the warmer months. I am not one of those heretics. White, minimalist sneakers can effectively balance out an otherwise overly-dark outfit. With white leather sneakers being practically everywhere these days, there are countless options to choose from. The cult favorite Common Projects Achilles low remain one of the most popular options, but the offerings from Buttero, Oliver Cabell, and Beckett Simonon should be considered as well. If you're prone to getting your sneakers dirty, the added winter elements certainly won't be doing you any favors. Try a water/stain repellent spray like Crep Protecton your sneaks to keep them looking fresh.
Boots
You'd be hard pressed to find a men's winter fashion guide that doesn't mention any sort of boots. Aside from being a durable option for braving the wintery elements, boots look damn good on just about everybody. Comfortable, warm, and stylish, boots should certainly have a place in your wardrobe. For an entry-level boot, stick with a service boot or chukka with Goodyear welt construction. Avoid anything with suede this season as any sort of moisture will disfigure them quite quickly. My favorite boots come from Sutro Footwear, Thursday, Red Wing, and Chippewa.
Everyone's taste in boots is different, but some popular styles include lace-ups, chukkas, moc toes, and chelsea boots. Check out our boot guide to learn more.
Dress Shoes
Even if you don't need to dress up often, it's important to at least have the means of doing so. We cover dress shoes more in-depth in our business casual guide, so we won't dive too deep here. A reliable oxford, brogue, or monkstap dress shoe should do the job just fine. Keep them clean, polished, and ready for whatever event might spring up.